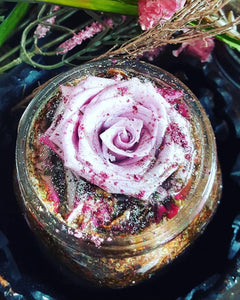 Sweet Jar Ceremony
Sweeten yourself up and attract all the beauty of life. With the power of herbs and sweetness change your moods and habits. Begin to look at life with a better understanding with herbs that will assist in the betterment of self. Sweeten your life and invite the power of natural herbs to initiate a positive change for you today.
Ceremony takes about 2-3 hours and the Jar will be sent once it has finished charging at our Altar. 
16oz Jar filled with unlimited choices of herbs, sweeteners, and roses.